Thanks To Everyone Who Helped Make The Streaming Media West Show A Success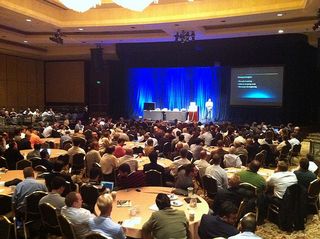 By all accounts, last week's Streaming Media West show in LA was a great success thanks to all of the speakers, exhibitors and attendees. We had the best lineup of speakers to date with over 130 executives across more than 40 sessions talking about the business, content and technology of online video. We had packed session rooms and each of our keynotes by Google and Adobe had more than 500 attendees. The exhibit hall consisted of a great lineup of vendors showcasing their products and services and many of them really helped to bring the industry together with networking events and round-table dinners. Many companies also released a lot of news around the show which I have compiled here and we had some great media coverage by the Huffington Post, GigaOm, Variety, CNET, Tech Crunch, LA Times and others. Over the next few weeks I'll be writing up on my blog quite a few in-depth posts from the show and we'll have all of the sessions archived in video for viewing later this month.
The number of paid conference attendees jumped by the largest number we've seen to date and part of that clearly had to do with moving the show to LA, which allowed for a lot more participation by local executives in the area from media, entertainment, broadcast and enterprise companies. I can confirm that the show will be back in LA next year, at the same venue, and we'll announce those November 2011 dates shortly.
For those that came out to the show and supported it, we thank you. We got a lot of positive feedback from speakers, attendees and exhibitors. My only regret is that I simply didn't have enough time to speak to every single one of the thousands of attendees and I wasn't able to really walk the exhibit floor, since I have to spend almost all my time managing speakers and venue logistics.
But with the show now over, I'm happy to get on the phone and follow up with anyone who wanted to discuss any aspect of the industry with me. If you'd like to chat or want an introduction to someone who was at the show, shoot me an email or call me at 917-523-4562 and I'll be happy to assist. Just because the show is over does not mean the networking has to stop. I also welcome any and all comments about the show and any ideas you have on how we can make it even better next year.
We look forward to seeing you at one of our next shows, the Content Delivery Summit on May 9th and the Streaming Media East show taking place May 10-11th in NYC.