Save The Date: Announcing The 2011 Content Delivery Summit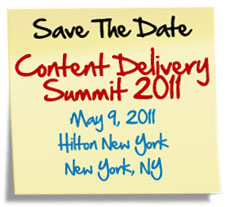 I'm very excited to announce that I will once again be organizing the special one-day Content Delivery Summit, taking place the day before the Streaming Media East show on Monday May 9th, 2011 at the Hilton Hotel in NYC. Now in its third year, the CDN Summit is the place for cable operators, telcos, service providers, network operators, ISPs and vendors in the CDN ecosystem to showcase and discuss the business and technology of content delivery.
While I won't start planning the show until December, the agenda for the summit continues to evolve each year to focus on new emerging business models and delivery technologies for content outside of just video. Services like application acceleration, dynamic site acceleration, mobile video, carrier grade hardware and software solutions and more will all be discussed and demonstrated at next year's show. As the CDN market evolves, so do the solutions in the market and the 2011 summit will have a heavy focus on how cable operators, MSOs, network service providers and network operators are deploying and using various CDN technologies on a global basis.
While I won't open the call for speakers until December, if you have any ideas on topics you want to see covered or want to get involved with the show in any way, please reach out to me at any time.