Roku Announces New Boxes, USB Support: Hands-On Review (with video)
Roku just announced three new streaming boxes with a whole host of new features. I've been using one of the new boxes for the past couple of days and love the new functionality that's been added. The company has made some really nice improvements to their lineup, yet isn't raising prices at all.
MVI_6373
Roku's new lineup is called the HD, XD and XDS and still has the pricing tier of $59.99, $79.99 and $99.99. The cheapest model supports 720p while both models in the XD category support 1080p. All three models have HDMI and composite out with the $99 model also offering an optical audio and component port. WiFi is built in on all three units with the more expensive model sporting dual-band support. All three units are available for order today from Roku.com.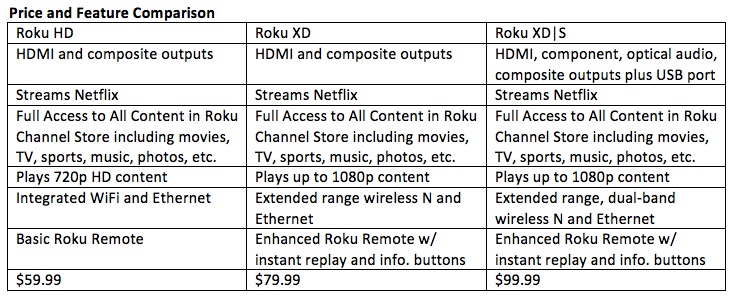 But the biggest upgrade for Roku is that the $99 model now supports the playback of local contact connected via the USB port. Roku supports .mp4 playback today and will be including support for .mov next month. I've been using a flash drive and also an external hard drive via USB and 1080p videos look great.
All three Roku models ship with a new remote and the two XD models support what Roku calls "instant replay". The technology allows you to skip back in 10 second increments while a video is playing without having to re-buffer the stream. I don't know how Roku is doing this and have asked for more details on the technology but the feature is pretty unique for a streaming device. Roku has confirmed that consumers who have older Roku models can take advantage of the instant replay feature simply by purchasing a new remote.
Overall, it's pretty hard to find anything wrong with Roku's new lineup of streaming devices. The new boxes are 40% cheaper than the original model and all three now support HD. If Roku adds support for video formats outside of just .mp4 and .mov, Roku's higher-end box becomes even more valuable. The only thing I'd like to see added in the next revision is a security slot since these devices continue to get smaller and can easily go missing from dorms rooms and other high-traffic areas.
While some people want to compare Roku to all kinds of other stand-alone devices like Boxee, Google TV, Xbox 360 etc., only Apple TV and Western Digital's WD TV Live are really competitive to Roku. But with Roku having support for 1080p, the ability to support playback of video and photos via USB and an open SDK, not to mention 75 channel partners, Roku clearly beats the new Apple TV hands-down.
Keep an eye on my blog next week as I'll be giving away a new Roku XDS unit to one lucky reader.