Free Giveaway: Win A New Roku XDS Streaming Box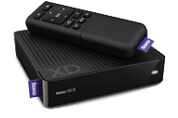 Last week Roku announced new boxes and after using the Roku XDS for a week, outside of a gaming console, Roku is still my favorite box in the market for video streaming and will soon have support for Hulu Plus. I've bought a top-of-the-line model, the Roku XDS and will be giving it away to one lucky reader of my blog. To enter the drawing, all you have to do is leave one comment on this
post and make sure you submit the comment with a valid email address. The drawing is open to anyone with a mailing address in the U.S. or Canada and the winner will be selected at random on October 11th. Good luck!