Get Answers To Your Silverlight & WM Questions On Today's StreamingMedia.com Webinar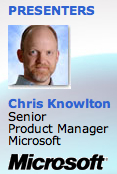 Today at 2pm ET I'll be moderating a StreamingMedia.com
webinar with Microsoft on the topic of "IIS Media Services and Microsoft Silverlight". The team at Microsoft just released the Beta of IIS Media Services 4.0, and are busy working on the next release. Attend this session with Chris Knowlton, Senior Product Manager at Microsoft, to learn more about what is available today, and what is coming later this year, in IIS Media Services.
Topics to be covered include:
IIS Smooth Streaming – including Apple devices, low-latency streaming, and multicast
IIS Transform Manager – easily ingests and converts multiple formats to Smooth Streaming
IIS Smooth Streaming Format SDK – add Smooth Streaming to your encoding application
Silverlight Media Framework – a player framework with full Smooth Streaming support
IIS Smooth Streaming Client Porting Kit – allows you to natively support Smooth Streaming
Be sure to bring your questions, because there will be plenty of time
for Q&A and on the last webinar, Microsoft answered over fifty questions on Silverlight and Windows Media subjects. You can register here for the free webinar.