ESPN Coming To Xbox: Will Offer Over 3,500 Live Events, Free For Gold Members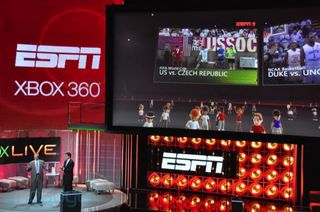 Microsoft has just announced an exclusive deal with ESPN which will bring over 3,500 live events a year to Xbox 360 users in HD. Content includes college basketball, college football, soccer, MLB, NBA, all four Grand Slam tennis tournaments and golf majors amongst others. ESPN just did a live demo from the E3 show using voice commands to rewind and replay ESPN video using Microsoft's Kinect technology. Very cool. Xbox LIVE gold members will have access to all of this content for free when it launches. Still waiting on Microsoft to release the date it goes live. Kinect launches in North America on November 4th.
For all of Microsoft's announcements from E3, check our engadget's live blog feed.
Update: Microsoft has confirmed that ESPN will work for Xbox 360 customers even if they don't purchase Kinect, but they obviously won't have any of the voice or motion controls.
Update 2: While not mentioned by Microsoft, (the release only uses the phrase "affiliated service provider") I have confirmed with them that ESPN will only be available to those Xbox LIVE members if their ISP has paid ESPN a license to get ESPN content. Of course ESPN thinks this is only going to force more ISPs to want to license their content, but I don't expect it will. Dumb move by ESPN. At a time when they should be introducing the ESPN to the young up and coming gamers who don't watch a lot of TV, all they are doing is limiting the reach and exposure of their content.
Update 3: Here is a list of all the current ISPs that have a license deal with ESPN for access to their content.