Netflix Offering Customers 10% Savings To Active Streaming On Their Wii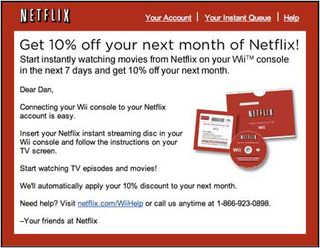 Recently I got my Netflix disc in the mail that enables me to stream movies to my Wii console but I've been too busy to even try it out. Yesterday, I got an email from Netflix telling me that if I use the disc and active streaming on my Wii within the next seven days, Netflix will give me a 10% discount on next month's bill. While the savings is not a big deal and amounts to just over a dollar for me, you've got to love Netflix's approach.
The whole idea behind this is that Netflix is pro-actively encouraging their customers to adopt the streaming service due to the positive impact is has on their business and the company is even willing to give customers some financial encouragement to follow through with the activation. Netflix did confirm for me that this applies only to the Wii and not to any other gaming console.
I'm going to activate Netflix on my Wii tonight, not because I can save a dollar, but because I want to support Netflix being so pro-active in getting customers to stream. To me, Netflix is like the Zappos of the entertainment industry where it's nearly impossible to be un-happy with their service. Yes, their stock price is crazy and hit a record high of $102.49 today, but they deserve it.