Cisco's New Flip SlideHD Camera Too Expensive, Can't Do 1080p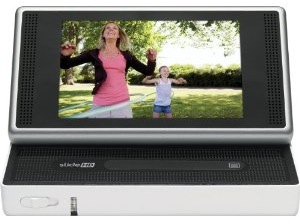 Last month I wrote that I had been sent specs for a new Flip camera that would be released around NAB and shortly after my post, images of the new device showed up on Engadget. So it was not surprisingly that yesterday, Cisco introduced their new camera called the Flip SlideHD. While I have yet to get hands-on with the device, I'm already disappointed in the features, the price and the battery life.
The new SlideHD comes with 16GB of memory that allows you to record for up to 4 hours of video in 720p and store a total of 12 hours of content. While the new 3-inch wide touch screen makes it easy to view videos, it's not the "world's first shoot and show camcorder" as Cisco claims. All camcorders have a viewing screen for playback of the videos and many of them have a larger viewing screen than the SlideHD. And while you can shoot 4 hours of HD video with the SlidHD, the battery only lasts for half that long. The camera is shipping today with a retail price of $279 from Amazon.
While Cisco's Flip line is still the number one selling video camera and has sold over four million units to date, one has to wonder how much longer Cisco will be able to hold onto that title. Kodak's Zi8 can shoot in 1080p, has built-in image stabilization, an external microphone jack that lets you record in stereo and can record up to 10 hours since it has an expandable SD slot that supports up to 32GB. In addition, the Kodak Zi8 is $100 cheaper than the SlideHD and ships with an HDMI cable, something Cisco charges extra for.
While NPD said that Flip outsold Sony, JVC, Kodak and Canon combined during the December holiday period, I think that come December this year, were going to see Kodak and others take a large percentage of Cisco's market share. With Cisco's latest SlideHD model not stacking up feature wise to what's already out on the market and being a lot more expensive than competitive cameras, Cisco has not positioned their Flip line to continue to be the leader in the industry. I'd love to know the classification Cisco used internally that led them to think they could call it the "world's best" camera.