3Crowd Technologies Raises $6.6M, See Their Demo At The CDN Summit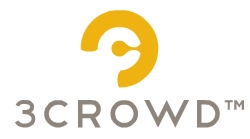 A few weeks back I mentioned that three CDNs would soon announce new funding deals and on April 13th, San Mateo based 3Crowd Technologies was the first to announce an investment of $6.62M by Canaan Partners and Storm Ventures.
The startup, co-founded by Barrett Lyon, who also co-founded BitGravity, is offering their first product they call CrowdDirector. The idea is to give content owners greater control over content delivery and other cloud services. Their system essentially acts as a virtual load balancer, providing load balancing capabilities across multiple CDNs, web servers, origins and elastic clouds. It's an interesting idea and one that clearly relies on content owners having a multi-vendor strategy, which many large companies have.
I haven't been able to see it yet in person, but on Monday May 10th, Barrett will demo the solution at the Content Delivery Summit in NYC. It's not too late to register and you can attend the CDN Summit for only $395 using the discount code of DRF1.