Video CDN Pricing Declines Heavily In Q4, Other Pricing Trends Seen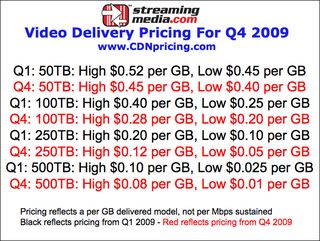 While many are already talking about CDN video pricing stabilizing in the New Year, so far, I don't see that stabilization taking place. Based on all of the data I saw last quarter, I expect pricing to continue to decline rapidly for the first half of this year. By the summer, pricing should become more stable and by the end of 2010, I expect that pricing on average will only decline about 25% for the year, compared to the 40% decline I saw on average in 2009. (note: you can always find my latest pricing post at www.cdnpricing.com – Previous Quarters: Q1 09, Q4 08, Q3 08, Q2 08, Q1 08.)
At the same time, while many content owners surveyed said they say traffic growth of about 35-40% in 2009, I expect that 2010 will mark the first time in two years that we will see the rate of traffic growth accelerate, but not by much. While we are only a month into the New Year, most of the major content owners I am speaking to think they can grow traffic by about 50% this year.  While that's only a 10% rate of growth over last year, it's still growth over the prior year, which is something we didn't see at all in 2009.
As you take a look at the Q4 pricing numbers I've published for video delivery, there are some key points that one needs to keep in mind. For starters, CDNs tend to be a lot more aggressive with pricing in Q4 as the year comes to a close and they are trying to get as much business in the door as possible. In addition, the average high numbers look a lot lower than usual partly due to the fact that Akamai is now aggressively cutting pricing across a wide swath of their CDN customers. I expect that by the third quarter of this year they will have re-price around 75% of their CDN contracts, which you can read more about here.
Another tactic many of the CDNs were taking in Q3 and Q4 of last year was giving customers twice the amount of bits delivered, for the same price. While technically the price point did not change in the newly signed contract, giving 2x as many bits for the same price means they cut their pricing by half. The pricing figures I list for Q4 are for pricing in the U.S. from Akamai, Limelight, Level 3, EdgeCast, Internap, Highwinds, CDNetworks and BitGravity. Amazon is not included in this pricing as they already publish their rate card on their website. AT&T is not included, as I didn't see any contracts from them in Q4. That's not to say they didn't sign any in the quarter, just that I didn't see any. This pricing also does not include prices from any of the telcos and carriers who are re-selling a pure-play CDN.
Whenever I publish pricing numbers, they tend to get used by vendors, customers and those on Wall Street. As a result, it's important for those new to CDN pricing to read some of my previous posts on the different variables that affect what customers pay for video delivery. Just because I publish these numbers that does not mean that is what you should pay as a content owner. And if you are trying to use this data to figure out what someone like Apple or Microsoft pays the CDNs for video delivery, don't. Those contracts are so unique that this pricing does not apply.
As I saw for most of last year, Limelight and Level 3's pricing was very identical. Typically, they were always about 15% within one another, high or low. While some in the industry and on Wall Street still want to imply that Level 3 is the reason for the drop in pricing in the market or say that Level 3 is the "low cost leader", that's not the case at all. Of the CDNs I listed above that are included in this pricing, Highwinds and especially BitGravity have the lowest prices in the market. In many cases, I am seeing BitGravity offer a penny per GB delivered, even with no commit. While there is no way they can make money with pricing that low, that's a topic for a different post.
Many want to suggest that the catalysts to jump start the CDN market once again will be HD video and the adoption of broadband enabled devices. While that sounds good, it's not the reality any time soon. There is no evidence in the market to suggest that HD quality video will impact CDNs revenue, in a positive way, anytime this year. There are so many business problems and pricing problems with HD video that we're a long way off before any of those are solved, in my opinion, a good 18 months from now. In fact, when we surveyed over 800 content owners on their adoption of HD quality video in 2009 versus 2008, the growth was less than 3%.
As for devices, we are starting to see some really good signs in the market that device adoption is beginning to take off. But even with that, we still don't have enough devices in the market, connected to broadband, with content services being offered on them, in order to have a major impact on the CDNs. Two years from now will be a different story, but devices won't be a major impact on the CDN market, revenue wise, in 2010. (See, "Breakdown On The Number Of Broadband Enabled Devices Sold In The U.S.")
While I don't have any data to back it up, my guess is that the 100 top content owners probably push over 75% of all
the video traffic amongst all the major CDNs. So the CDNs are still
getting the vast majority of their video related revenue from a minority of the total number of customers in the market. This will shift over time and is
already beginning to, but the bottom line is that the major
content owners are still the ones pushing the vast majority of traffic
amongst the CDNs.
Whenever I publish pricing numbers I tend to get a lot of specific questions afterwards which I am happy to try and answer. So if you have a specific question on pricing, trends or any of the data I have presented, simply put your question in the comments section and I'll respond. You can also call me at anytime at the number listed on my blog.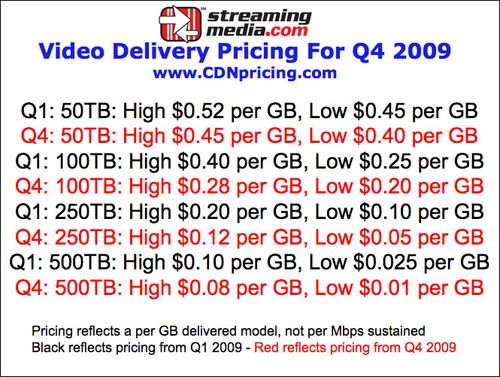 Related Posts:
– Updated List Of Carriers, Telcos and Pure-Play Companies In The CDN Business
– Akamai Gaining Market Share With Their Lower CDN Video Pricing
– Bandwidth Pricing Trends: Cost To Stream A Movie Today, Five Cents: In 1998, $270
– Limelight Networks To Acquire EyeWonder, $200M In Combined Revenue Next Year
– Amazon's CloudFront Now Offers Flash Streaming, This Will Disrupt The Market
– Latest Data Shows HD Video Adoption Growing, But At A Very Slow Rate
– Video Traffic Grew 35% This Year, Same Rate Of Growth As 09', Flat Year-Over-Year