Syabas To Challenge Roku With Netflix Enabled, Popbox Streaming Device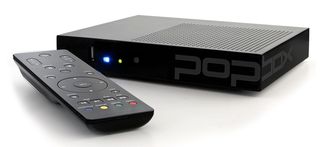 This morning Syabas, best known for their Popcorn Hour media player, announced that come spring they will launch a new $129 box similar to Roku called the Popbox. I got a detailed briefing on the new device last week and had the chance to speak with Syabas COO Alex Limberis on what their business model will be.
While the Popbox is very similar to the Roku with its small form-factor and fanless design, the Popbox has a couple of key features that sets it apart from the Roku. For starters, the Popbox plays just about every video format out there including MPEG1/2/4, Open MPEG-4 HD, Xvid-HD, WMV9-HD, VC-1 and H.264. On the audio side, it also supports MP1/2/3, WMA, WMA Pro, Ogg Vorbis, AAC, AC3, DTS, PCM, WAV and FLAC. It also supports a lot of image formats, Windows Media DRM and a bunch of subtitle and metadata formats as well.
Syabas says that one of the main strengths of the box is that it has a
very powerful video processor and essentially uses the same processing
platform as the Popcorn Hour. The box supports 1080p and can do up to
100Mb/sec video decoding, which about is two times what Blu-ray does. The company says that as a result, the Popbox can deliver better video quality than the Roku. This could be accurate, but since I have not been hands-on with the Popbox, I'm not going to state it as a fact. It would be easy to test as you could simply playback a local file on both units and compare the quality, but until Roku enables the USB port on the XD-HR unit, there is no way to do the comparison.
While the Popbox has no hard drive, it does ship with a 2GB SD card, two USB ports and one HDMI port. The ports allow you to plug in other devices like Flip cameras and external hard drives enabling users to ingest their networked media content. While some might expect the included SD card to be used for storing content, that's not supported. The Popbox SD card enables the box to store what Syabas calls "popapps" for their  Popbox store (screenshot) and the main purpose of the SD card is to store those apps and the metadata. The company has announced more than twenty content partners for the Popbox store including Netflix, Twitter, Facebook, Photobucket, Next New Networks, Revision3, blip.tv, IMDB and Funspot Games have all developed Popapps for the platform. While I have only seen screenshots of the Popbox store, the UI is beautiful and clearly beats Roku's interface hands-down.
The box will only be available in the U.S. to start and is expected to ship in late March. There will be two versions of the box, one with WiFi and one without. While today's announcement says the Popbox will retail for $129, that's for the unit without WiFi. The WiFi enabled Popbox will have a retail price of $149.
On paper, the Popbox looks very similar to Roku but has two big hardware advantages in that it supports lots of different video and audio formats and allows for media extender functionality via USB. While Roku's recently announced new XD-HR unit also includes a USB port, Roku has not yet said when that port will be enabled or what it will support. I put in a request to Roku for an update on this and will post their response when I get it.
All technology aside, the real question is what's the business model for such a device and how many can Syabas realistically sell? We don't know exactly how many units Roku has sold, but I suspect that with the holidays now over, and Roku having shipped a lot of boxes during that time, Roku should have broken the one million mark for total number of Roku units deployed to date. Syabas goal is to sell half a million boxes in 2010 which does not seem unrealistic if they get marketing support from some of their content partners. One has to wonder though how much marketing support Syabas will get from Netflix, considering Netflix is an investor in Roku. Syabas said they will get the same level of support the Roku has gotten, but I want to see that take place before I believe it. The marketing push and promotion that Netfflix has given the Roku device is the main reason Roku has sold so many of them.
As we've seen with the success and rave reviews of the Popcorn Hour, Syabas strength is clearly in hardware design and video processing. But to be successful in the market with a device like the Popbox, you have to have great content partners, have a easy way to find all the content and have a good user interface. So far, from what I have seen, Syabas has all of this in the new Popbox.