Movie Studios Just Don't Get It, Part IV: Pay More For Movies On USB Drives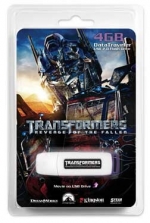 First it was the studios delivering two-hour movies to cell phones, even though consumers weren't and still aren't asking for the service. Then came the studios charging more for a digital download over the physical DVD. That was quickly followed by Sony charging $24.95 for a 24-hour rental and admitting it does not want to upset Walmart and the studios own DVD business.
Now comes word that Kingston, manufacturer of USB drives and SD cards, has teamed up with movie studio Paramount Pictures to release Transformers, Revenge of the Fallen directly on to a 4GB USB stick. The catch? A 4GB USB stick with the movie costs $29.99 through Office Max stores nationwide. Where is the value to the consumer with this offering? The physical DVD costs $17.99 on Amazon and a 4GB Kingston USB stick costs $8.89. So why is does it cost the consumer almost $4 extra to get the movie on a USB stick? Where is the demand in the market for this offering?
Keep in mind, the quality of the movie on the device is not at 1080p and it's only being offered online or at Office Max stores, not exactly the place most folks go when they want to buy a movie. But maybe that's exactly why the studios are doing it this way, since the average person visiting an Office Max store has no idea it's more expensive than it should be.
Paramount and Kingston have announced that they have signed a deal to deliver additional movies on Kingston USB drives and SD cards, so expect to see more of these pointless offerings in the market shortly.