Free Product Giveaway: Xbox 360 Pro Console, LIVE Membership, Messenger Kit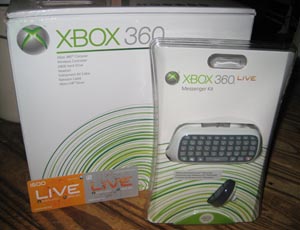 The drawing is now closed. Last month, at the Streaming Media West show, the generous folks from the Xbox team provided us with a bunch of great giveaways. While the items went fast, I still have one Xbox 360 unit that was never given away which will now go to one lucky reader of my blog. The winner will get one Xbox 360 Pro console, a 12 month membership card to the Xbox LIVE service, 1600 Microsoft points and an Xbox 360 Messenger Kit. Winner: Douglas S. from Austin, TX.
In order to make sure the unit goes to a reader of the blog and not some high-school kid who happens to come across my blog, you must leave one post in the comments section below with you name and a link to your company website, LinkedIn page, Facebook page etc… something that proves to me your not some kid just trying to strike it rich. I will pick one lucky reader at random at the end of the month and ship it out. The drawing is only open to U.S. residents.
A BIG thanks to the Xbox team for the great giveaways and for making this possible!
– Xbox 1080p Streaming Quality Is Incredible, Hands-On, With Video
– Review: Hands-On With Netflix Movies On The Xbox 360, HD Included
– Xbox 1080p Streaming Uses IIS, Smooth Streaming, But Not Silverlight
– Xbox Shows Off New Netflix Browsing Feature, Improved Video Quality
– Netflix Streams 1.5 Billion Minutes Worth Of Videos To The Xbox 360