CEOs from Move, Internap, Highwinds And Others Provide Update On Their Business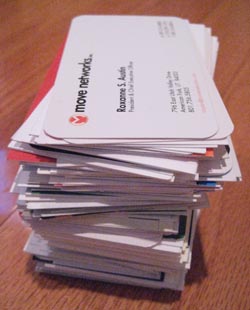 One of the great things about the Streaming Media West show two weeks ago was the fact that so many industry CEOs were in attendance. Many of them have only recently taken on their CEO roles and I had the chance to sit with a bunch of them for the first time. I came back with over 100 business cards that I now need to follow up on.
I spent a good deal of time talking with Roxanne Austin, Move Networks' new President and CEO on the TV Everywhere business and what they are seeing in the market. Much of the conversation was off the record, but I'll have a great follow up post shortly about my conversation with Roxanne and what Move Networks is working on.
I also had the chance to meet with Eric Cooney, Internap's new President and CEO and got an update on their CDN business and we chatted about some of Internap's strategy moving forward. I still have a post to do about Internap's recent re-launch of their CDN offering and will have more on that later this month.
Speaking of CDNs, I also had a chance to sit with Steve Miller, President and CEO of Highwinds, along with some of his executive team. I now have a very clear picture on what Highwinds is working on with regards to their CDN offering in the New Year and where the future lies for the company's CDN business. I'll be doing a write-up of that shortly as well.
I had the chance to have lunch with Jamie Howard, President and CEO of Imagine Communications, who are the folks behind the digital platform that runs many of the cable and satellite companies digital video services. Some really interesting things are taking place in that arena which I'll also be discussing on the blog shortly.
In addition I had the chance to talk with Bill Stone, President of FLO TV, Peter Csathy, President and CEO of Sorenson Media, Jim Louderback, CEO, Revision3, as well as many others. Other C levels executives in attendance included Paul Scanlan, President, of MobiTV, Tal Saraf, GM of Amazon's CloudFront services, Emil Rensing, Chief Digital Officer of EPIX, Mitch Berman, CEO of ZillionTV, Bob Donlon, GM of Adobe TV, Mark Pascarella, CEO of Gotuit, Mike Newman, CEO of Accordent Technologies, Herve Utheza, President of RCDb, Brett Wilson, CEO of Tubemogul, Marc Whitten, GM of Xbox LIVE, Eric Armstrong, President, Kontiki, Alex Castro, CEO of Delve Networks, Ron Yekutiel, Chairman and CEO of Kaltura, Bismarck Lepe, Co-Founder of Ooyala, Daniel Graf, CEO of Kyte, Jeremy Allaire, Chairman and CEO of Brightcove, Brian Shin, Founder & CEO of Visible Measures, Ben Weinberger, CEO & Co-Founder of Digitalsmiths,  Pete Kocks, President of Truveo, Tom Wilde, CEO of EveryZing, Lou Schwartz, Chairman and CEO of Multicast Media Technologies, Jay Pritchard, CTO of Datpresenter, Benjamin Wayne, CEO of Fliqz, Alex Blum, CEO of KickApps, Scott Broomfield, Co-Founder and CEO of Veeple, Max Haot, Co-Founder and CEO of Livestream and many, many others.
The number of C-level executives in attendance at our Streaming Media East and West events continues to grow each year and it was great to see so many of them in person, even if it was just to say hi. If we didn't have the chance to chat at the show, my apologies, I simply could not make it to all the meetings I wanted to. I'm happy to catch up with any of you now that the show is over.