Review: Hands-On With EPIX's Movie Streaming Service, Free Trial Codes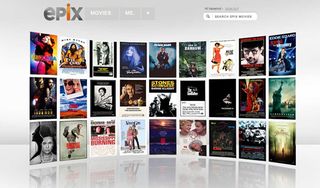 EPIX, a new premium pay-TV entertainment channel from Viacom, Paramount Pictures, Lionsgate and MGM, launches today for Verizon FiOS subscribers. The service, which costs $9.99 a month comes with a unique online video component. In addition to watching movies via the linear TV channel, or via the VOD model tied to a set-top-box, subscribers also have the ability to stream all of EPIX's content in HD quality at EPIXHD.com
Last night, I got hands on with the service, spent some time watching a bunch of movies and was very impressed. (If you want to see it for yourself, I'm giving away 200, 30-day invite codes.) The user experience, functionality, navigation, player controls and video quality were all excellent. For HD quality, videos are rendered out in 1280×720 and encoded in H.264 at two bitrates, 3Mbps and 2.2 Mbps to take advantage of Adobe's multi-bitrate technology. EPIX encodes for a total of six bitrates, including 500Kbps, 900Kbps, 1200Kbps, 1700Kbps and the two HD bitrates. The custom built Flash player has all of the usual bells and whistles but one of the nicest features is the detailed metrics it gives you on the quality of your stream.

When you click on the "stream info" button, a window appears in the video screen that tells you the speed of your connection, how many seconds before the video buffer is full, gives you the bitrate you're streaming at and gives you the option to maintain the maximum bitrate by turning off the variable bitrate functionality. Today, all of the videos are being streaming via Akamai, but as EPIX mentioned in a call last night, over time, they expect many of the MSOs who license the EPIX channel to bring the streaming inside their closed network. Verizon is not doing that as of yet, but I would not be surprised to see them do that over time as keeping the streaming inside their network would provide a better quality user experience.
EPIX said that by the second quarter of next year, their goal is to have 3,500 feature films available for streaming in HD. The one catch, due to licensing terms, movies can only be streamed in the U.S., so if you travel overseas, don't expect to be able to stream to your computer. While some have been quick to write EPIX off since they are launching on just one cable company, Verizon, deals with other providers are on the way. I've heard rumors that one of the impending deals is with DirecTV, but I have not verified that and EPIX had no comment when asked.
Some have suggested that right now, the last thing we need in the industry is another pay-TV service. That may be true, but in speaking with Emil Rensing, the Chief Digital Officer at EPIX, I've learned that the MSO has full-control on how they offer the service. Cable companies do not have to charge consumers to get access to EPIX and I would not be surprised to see some providers offer the channel for free, bundled in with their current TV packages, as a way to differinate themselves from others. It could be very similar to deals we have seen like ESPN360.com where Verizon has licensed the content and providers it to their FiOS users at no additional charge.
The other unique thing about EPIX is that right now, they are really the only ones that have the license to put all of their programming on TV, VOD and the web all at the same time. As a result of this, EPIX says they have more programming available on-demand than both Starz and HBO combined. They also make that content available to all three platforms at the same time without any window restrictions. In addition, while EPIX does not technically have a video offering yet for devices, nothing stops you from being able to watch movies on any device that has a web browser, a fast enough connection and a recent enough version of the Flash player. I'm going to have to give this a try on my PS3 over the weekend.
So far, I like everything I've seen with regards to the online portion of EPIX's offering and look forward to seeing the service evolve in the coming year. If you'd like to see the online portion of the service for yourself, I'm currently giving away 200, free 30-day trail codes.
In about two weeks, Emil Rensing, Chief Digital Officer at EPIX will be one of our keynote presenters at the Streaming Media West show. You can register for a FREE exhibits only pass and attend keynotes by EPIX, Xbox and FLO TV all for free.