Netflix Streaming Coming To PS3 Next Month, Will Require Blu-Ray Disc To Play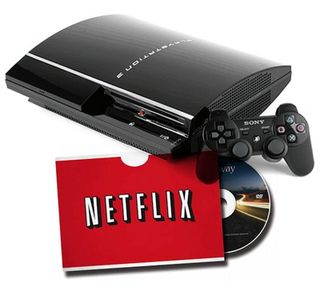 So much for my bet that Netflix would come to the Wii before the PS3. Today, Netflix and Sony announced that sometime next month, Netflix streaming will come to the PS3. Initially, users will be required to insert a Blu-ray disc in the PS3 which will take advantage of Blu-ray's BD-Live technology to access the Netflix interface.
The disc, which is free for all Netflix members and can be ordered at www.netflix.com/ps3, is a temporary solution, but Netflix is not disclosing when the embedded PS3 solution will replace it. While the PS3 is clearly a great fit for Netflix streaming, I'm still surprised that Netflix would raise their fourth quarter guidance based on this news. With the streaming not due until sometime next month, and users having to first order the disc, I can't imagine that so much streaming takes place in about a six week window, that Netflix things it will impact earnings. To date, Sony has sold just under 9M PS3 units in North America and it's going to be really interesting to see the customer adoption percentage of Netflix on the PS3 in this quarter. It took about three months for 10% of Netflix's members to use the Xbox 360 which has an install base of about 6M more units than the PS3.
The PS3 joins many other Netflix streaming compatible devices including the Roku, Xbox 360, TiVo, Internet TVs from Vizio, LG Electronics, Sony and Blu-ray disc players from Samsung and Best Buy's Insignia brand. Pretty soon it's going to be easier to make a list of the devices Netflix isn't on.