Xbox Shows Off New Netflix Browsing Feature, Improved Video Quality
Starting August 11th, Microsoft will roll out a dashboard upgrade for the Xbox 360 with a bunch of new options for Netflix streaming, including adding movies to your queue without a PC. I got a chance to get hands-on with the upgrade tonight and Netflix customers are going to love what's in store for them.
The most significant upgrade made to the Netflix app for Xbox LIVE members is that users can now add movies to their Netflix queue without having to use a computer. You can now browse through 100 movies per genre based on the types of shows you've previously watched and when you find one you want, you simply add it to your queue. Browsing is simple and fast and being able to make Netflix movie selections directly via the Xbox is much appreciated. The one function that's still missing though is the ability to be able to actually search for a movie based on the title. Absent of that search function, you can only browse through the top 100 movie selections from each genre that are automatically presented to you.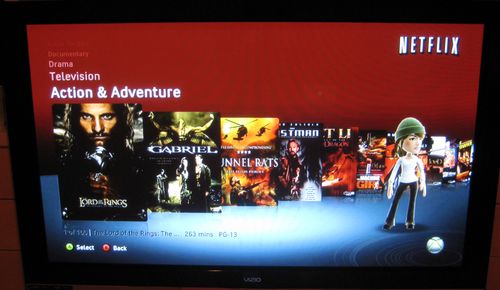 In addition to the new browsing feature, Netflix videos now have better adaptive bitrate technology, which enables a smoother viewing experience when your Internet bandwidth fluctuates. Microsoft says this allows for better estimates of the user's Internet connection and is now more accurate. If the Xbox detects that a users network condition has degraded, the Xbox can seamlessly switch to a lower stream while continuing to play out the existing buffered content. For anyone who has a broadband connection that tends to degrade in
quality, this enhanced technology should help, although I didn't see a difference myself probably due to the fact that I'm on a 50Mbps FiOS connection.
While it's unclear if any of the Netflix videos are encoded at higher bitrates than before, Microsoft says the video experience will also be a better one due to the fact that the upgraded Netflix app supports improved encoding profiles that allow them to deliver higher encoded bitrate content using less network capacity.
Along with these improvements, Microsoft is also releasing a new movie parties feature for Xbox LIVE Gold members that enables them to watch a movie with up to seven of their Xbox friends. It's a pretty neat function where all the avatars sit together in a virtual theater to watch the movie and can interact with each other.
While some might be hoping to see Facebook, Twitter, Last.fm and Zune video and 1080p Instant On features in this release, Microsoft says those won't be coming out until later in the year. Considering that Netflix streaming to the Xbox 360 only launched just over six months ago, it great to see Microsoft and Netflix already updating their app and making the experience even better.
Related Posts:
– 1080p Streaming On Xbox 360 Will Require 8-10Mbps Connection For Full Quality
– Detailing Netflix's Streaming Costs: Average Movie Costs Five Cents To Deliver

– Netflix Streams 1.5 Billion Minutes Worth Of Videos To The Xbox 360
– Review, Hands-On With Netflix Movies On The Xbox 360, HD Included