Twelve Months After Launching, CDN Vusion Out Of Business, More CDNs To Follow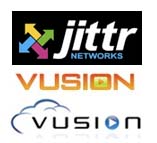 Vusion, a peer assisted content delivery network formerly known as Jittr Networks closed their doors about eight weeks ago and is shopping their assets.(Updated: Vusion's IP has been sold to Clarendon) Officially launching on May 5th of last year, Vusion burned through around $11M in VC funding in just twleve twenty four months. Like many of the CDNs who grabbed VC money at a time when it was being given out by the handful, Vusion was doomed from the start as they had no business model. While they were quick to point out the strengths of their technology, they were too late to the game and had no plan for how their technology would translate into revenue.
Vusion joins Panther Express and Grid Networks on the list of CDNs who in the past few months, have closed up shop or been forced to have to merge with others. Add today's acquisition of CDN Velocix, and you can see that the CDN market is starting to consolidate and not in a positive light for most of the VCs involved.
Vusion isn't the only CDN on the short list of those in trouble and we'll see a few more CDNs, mostly newer ones launched in the past twelve months, go under before the year is up.
Updated: Vusion's 14 paying customers were transitioned over to Ooyala.
Related Posts:
– Alcatel-Lucent Acquires CDN Technology Provider Velocix
– No Major Consolidation In The CDN Market Anytime Soon
– Three More CDNs Launch, Market Too Crowded
– What's The Barrier To Entry In The CDN Business? A Few Hundred Million
– New CDN Conviva Gets $20 Million In Funding: VCs, Stop The Insanity!