MLB.TV Launches, $10 Cheaper Than Last Year, HD Video, DVR Functionality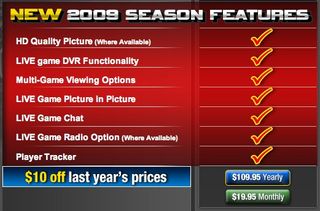 As an avid Mets fan, I check their website every day and within the past 24 hours, MLB put up a notice on all team pages that they have opened up MLB.TV for 2009 with cheaper rates than last year. MLB is once again going with two different options, a basic subscription service at $79.95 for the year and a premium service at $109.95 for the year. As the website points out, both of these packages are $10 cheaper than they were last year if you pay upfront. But for those who want to pay monthly, there is no discount being offered with the monthly costs being $19.95 for premium and $14.95 for the regular package.
In December, Major League Baseball Advanced Media (MLBAM) President and CEO Bob Bowman told PaidContent.org that in 2009, "…we have to lower our prices". Clearly MLBAM is looking to drive more subscriptions with a reduced rate and only offering the discount to those who pay upfront for the entire year is pretty straight forward. In addition to the lower price, the premium service comes with some new technology features enabled by MLB's switch to Flash in the beginning of the year. The most relevant of which is the ability to have DVR like functionality during a live game, a new feature of Flash Media Server 3.5 that Adobe introduced in November of last year.
MLB's premium service also allows for a new picture in picture feature and they also say HD quality is new for 2009. With the high-bitrate encoding MLB was doing last year, their video quality was already very good, taking it up to HD only makes the deal even sweater. I'm interested to hear the tech specs on how MLB is doing the encoding for HD video and what they will be providing.
As far as I am concerned, MLB is doing everything right with their online video offering in 2009 by giving us better quality, at a lower cost. Now if only they could figure out a way to get rid of all the blackout restrictions.