Video CDN Report From Frost & Sullivan Now Available At Discounted Price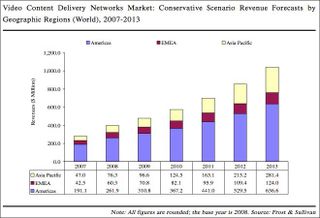 I'm happy to announce that the first report I helped author at Frost & Sullivan on the video CDN market is now available for sale. (Full table of contents at: www.cdnreport.com) The report will only be available for the next three weeks at a special price of $1295. Most major research firms don't sell individual reports on a one-off basis and only make them available to customers who sign up for a subscription based service.
Frost & Sullivan realizes the importance of this report and like me, wants to be able to get the data into the hands of as many people as possible. To make that process even easier, I will be personally taking the orders and fulfilling the reports myself. You don't have to buy it through a website and wait hours or days to get it delivered. Simply call me anytime at 917-523-4562 and I will take payment over the phone and send the report out in real-time.
While there have been a bunch of research reports put out on the CDN market, this one is unique for multiple reasons. For starters, it focuses specifically on the video CDN market and breaks out video revenue and market sizing from the larger, more generic CDN industry. Some of the data includes:
dual scenario revenue forecasts based on current and future economic conditions
compound annual growth rate percentages for video delivery from 2005-2013
revenue forecasts by geographic regions
revenue forecasts by vertical markets (M&E/enterprise)
vendor market share by revenue
market drivers and restraints
types of web video applications and customers
database of key industry participants
The 75 page report includes nearly 40 charts and graphs and anyone who purchases the report has access to do a follow up call with me with any questions they may have. I am also willing to help further break down the data in the report and provide even more granular details on the numbers.
I've always found that the process of purchasing one-off research reports is too un-personal, takes too long to get fulfilled and many times, is difficult to follow up with those who authored the report. So we're going to do the exact opposite and really try to help folks better understand the data and market, even after you have already bought the report. We stand behind our research and think it is important to provide a different level of personalized service and look forward to doing so.