Judge Denies Limelight's Motion For Summary Judgment In Level 3 Case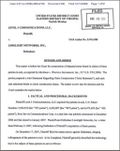 During the holidays, on December 29th, the Judge denied Limelight's motion for a summary judgment in their patent suit with Level 3 and stated the case will still go to trial. If you want to get a good overview of the patents in dispute, without too much legal mumbo jumbo, the summary judgment document details what's being argued by both sides.
In other patent suit news, while it was expected that the Judge in the Akamai and Limelight case would issue a ruling before the New Year, no ruling has yet to come out. When it does, I will post it as soon as I get a copy of it.