Deutsche Telekom Enters The CDN Market, Partners With EdgeCast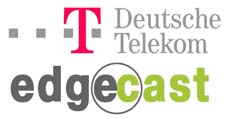 This morning, Deutsche Telekom announced that it would enter the content delivery market by reselling the content delivery services of EdgeCast. For months, the two companies have been quietly working to put the solution in place and Deutsche Telekom is already actively selling the service, and launching it with customers, primarily focusing on the European market.
Deutsche Telekom is now the fifth telco to have entered the content delivery market in the past 18 months. Reliance Globalcom is reselling Internap, Tata Communications licensed BitGravity, Level 3 acquired the CDN assets of SAVVIS and AT&T is building out their own CDN from scratch. It's interesting to note that of the five companies, four of them have taken completely different approaches to enter the market.
While EdgeCast will get to leverage some of the IP assets of Deutsche Telekom, customers of Deutsche Telekom won't just be using the Deutsche Telekom network. Content will be delivered over Deutsche Telekom IP backbone and through EdgeCast servers located on other networks. This should give Deutsche Telekom a leg up on some of the other telcos who have chosen to only deliver content over network assets they control.
While the pure-play CDNs still control nearly all of the market for video CDN services, the telcos are positioning themselves for the future, when video delivery becomes a billion dollar industry. While the telcos still have a lot to put in place in order to compete with the pure-play CDNs, as long as the telcos can wait it out, they should start to grab some share of the market over the next 24 months.