NFL Launches "Game Rewind", Every Game On-Demand In HD With No Commercials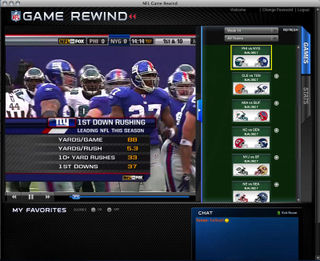 Updated 9/11/2011: NFL Now Offering Four Ways To Stream Games Online
Today, the NFL launched a new video on-demand service called Game Rewind that lets you watch every NFL game in HD quality, with no commercials. The service, which costs $19.99 for the season or $4.99 for a week pass, also provides DVR functionality and lets you watch up to four games at once. While it is not known exactly how quickly games are made available after they end, for now the NFL is saying within 24 hours, but it is expected times will be much shorter.
The NFL is using Move Networks for the service, which is the same technology partner used for the NFL's live video service called GamePass HD, available to those outside the U.S. As expected, the quality of video for Game Rewind is amazing and the NFL kept the interface clean and simple. While you can see a demo of the service at NFL.com/gamerewind, the interface I got through an actual account looks a little different. You have the option of just watching the game with no additional content, or including things like stats and chatting with others during the game or watch up to four games at once. Initial buffering times took about a second for me on my Mac, in Safari and I experienced no stuttering at all getting the 2.4MB stream.
While it's not ideal that the NFL would charge for games on-demand, at twenty bucks a year, it's very affordable and by providing HD quality and no commercials of any kind, I'd throw down twenty dollars for it. I'd prefer to see the NFL offer this kind of on-demand video with this kind of quality, for free, but with online video monetization models being what they are today, you can't fault them for charging viewers. With the NFL now providing this kind of video quality for two out of their three online video services, I hope the games they broadcast on Sunday night in conjunction with NBC start getting the HD treatment, or least encoded into a much higher video quality. 

Click on the image on the left to see what fullscreen looks like on my 15" MacBook. Keep in mind, the camera does not show how good the quality is, but it gives you an idea.
Related:
– NFL Offers HD, Full-Screen Streaming, But Only Outside The U.S.
– NFL's Live Streaming Leaves A Lot To Be Desired: Capping Users, Poor Video Quality