Netflix Giving Away 48 Hour Streaming Trials With New Xbox 360 Games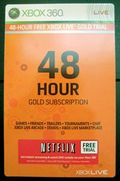 Inside the case of  the new James Bond Xbox 360 game that came out today is a special insert card that allows you to trial the Netflix streaming service for 48 hours. While the trial won't officially kick off until later in the month when the new Xbox 360 console upgrades roll out, this is the beginning of what is expected to be some massive marketing efforts by both Netflix and Microsoft for the new service. While this is the first game I have bought that has the trial offer included, I expect other games will offer it as well.
While we've seen a lot of discussion surrounding the technology and implementation of the new Netflix/Xbox service, we have not yet heard much about the type of marketing programs the two companies are going to team up on. While both companies spend a lot of money on marketing, in this case, they should be able to leverage each others distribution and wide reach to create some very compelling programs without having to spend tons of money.
With the new trial offer, Netflix is also going to be reaching a much younger demographic for the service than their typical subscriber to their DVD service. While it is too early to expect Netflix to offer a streaming only subscription service offering, over time, I would not be surprised to see Netflix offer a package for those users who only want to get movies via the Xbox 360, Roku, TiVo or some other device. It may take a year or two before we see such an offering, but eventually, Netflix is going to have to offer some kind of package for those that just want to get movies online.