Level 3 Opens Broadcast Encoding Centers: Ecosystem Offering Now In Play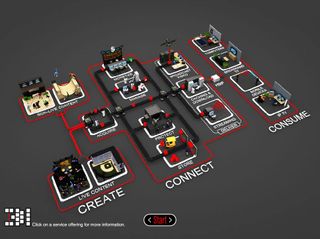 This month, Level 3 officially opened their two new broadcast encoding centers and has already started signal acquisition, content ingestion and video encoding services for customers in their content markets group. The two broadcast centers, located in Manhattan and Tulsa, now enable Level 3 to market to customers a unique offering, controlling customers video content from creation to distribution.
While many content delivery networks (CDN) are trying to figure out how to get out of the commodity business of shipping bits and are talking about the "ecosystem", Level 3 has now deployed one of the most unique ecosystem offerings in the market. The new broadcast centers allows level 3 to provide support for encoding up to 24 simultaneous live events in Windows Media, Flash or Move Networks formats. And with both broadcast centers tied into Level 3's Vyvx offering, the company can also ingest video directly from customer's locations and downlink and uplink video from nearly 95% of the world's satellites.
Why many will say that in the bigger picture, these services are not a huge money maker for Level 3, the point of this offering is to enable content owners to be able to get more content online faster and easier. Moving forward, this new offering will also enable Level 3 to become one of the premiere CDNs in the market for live events since they can do more than just deliver the bits. I got my start in this industry as a webcaster and understand the need customers have when it comes to live broadcasting, a trend we are seeing more of on the web. For live events, it's all about the production, getting the signal from one location to another, encoding the video into the right formats and distributing it to the right partners. Not to mention do it all at broadcast quality and with complete redundancy. With live events, you get one chance and once chance only to get it right. And while Akamai and Limelight still retain control of the most of the large scale live events on the web, Level 3 is quickly catching up.
While not announced, Level 3 is already broadcasting many professional sports events in Europe and other locations and has over 700 Vyvx customers. Add in the fact that Level 3 gets more than 20,000 requests for short term Vyvx accounts each month, mostly for sporting events and breaking news, and it does not take a lot of math to figure out how quickly this business will ramp up for Level 3.
To support live events, most other CDNs currently use partners like iStreamPlanet, Origin Digital, or OnStreamMedia to handle the signal acquisition and encoding needs for events. And while those companies and others do a good job, the vast majority of customers, especially in the broadcast vertical, are looking for one company to handle it from end-to-end. For most customers, calling a CDN and asking for live event help, outside of delivery, is a painful process. Typically they are told to call a partner or find someone who does live event production and then call the CDN back when they have it all worked out. While CDNs are very good at delivering live streams, they are pretty poor in handling all of the others pieces of a live event and assigning a live event manager who can assist with things not under control of the CDN. That hands-on approach is what makes a live event successful. And if we think about where video is going with higher bitrates, longer form content and HD video quality, the process of ingesting and encoding video is going to be harder to manage and become more important to major content creators.
While Level 3's broadcast encoding centers are primarily handling one-off events right now, in the first half of next year, Level 3 expects to make much of their live event services available on a self-provisioning model. Clients will have the ability to reserve encoders and ingest and encode their own streams on the fly, without having to call into Level 3. While most content owners are content to have someone else do it today, there is a shift going on in the industry as those in the media, entertainment and broadcast verticals take more control of their content. As online and broadcast divisions inside a company merge, more are shifting resources to where they want to provision encoders and live event solutions themselves. That logic is part of the reason why Level 3 acquired Servecast last year so they could layer some of Servecast applications on top of the Level 3 infrastructure.
For the past year and a half, I have been saying that Level 3 is going to become a serious player in the content delivery arena, offering more than just pushing bits. And while they still have a few pieces of the solution to bring to the market, like better reporting and some of the front-end applications, 2009 should be a good year for Level 3's content delivery business.