Gomez Launches New Streaming Media Monitoring Service
This morning, Gomez launched a new streaming media monitoring service dubbed Active Streaming XF. For the past few months I have been beta testing the new service and adding my own streaming media URLs into the system from many of the major CDNs. While the service gives you results on all of the usual items you would expect like startup time, packet loss, etc…. it also allows you drill down in great detail on each individual test stream down to the individual IP address.
This is a great feature as it enables a customer to quickly and easily find out if the content delivery network they are using is truly serving content from a specific region of the world. While some CDNs say they serve the content from a local POP, this new Gomez service can tell you if it's really local delivery or not. Gomez has put a great deal of thought into the service, not only in terms of the technical details it provides but the ease of use you have in managing the data. All of the data that is presented has the ability to be managed simply by dragging a graph, data point or item in the tool bar. You don't have to ask the system to re-sort the data, you simply drag any aspect of the data to drill down or change the way the data is presented. It is extremely intuitive and is the best interface I have seen so far for any monitoring service.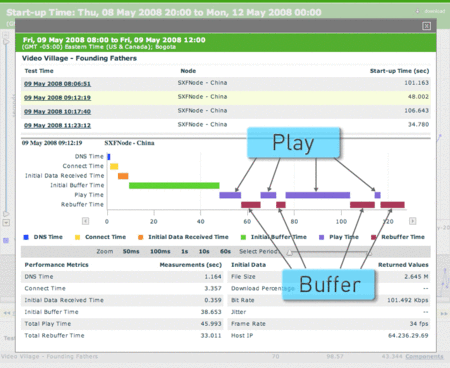 Right now, many CDNs use Keynote's competiting monitoring service to validate their SLAs and it will be interesting to see if any of the CDNs being to use Gomez as well. From the testing I was able to do, this new Gomez service has really been thought out well and for some customers, is as cheap as a few hundred dollars a month.