Worldwide Video CDN Revenue $400 Million In 08, Grow To Over $1.4 Billion By 2012
Yesterday, on my Frost & Sullivan webinar (stream archives here) (download audio here) about the video CDN market, we released preliminary data from the upcoming Frost & Sullivan report entitled "World Content Delivery Networks Market". Due out next month, this report will break out the worldwide CDN revenue, specific to video delivery in the North America, Europe and Asia Pacific regions.
The preliminary data shows that the worldwide video CDN revenue will be a little more than $400 million in 2008, increasing at a Compound Annual Growth Rate (CAGR) of more than 30%. As the slide below shows, we expect the worldwide video CDN revenue to grow to more than $1.4 billion by 2012.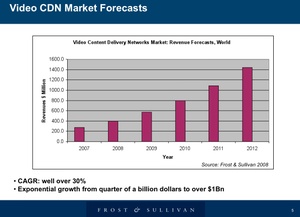 These numbers are very specific to revenue obtained for video delivery services by CDNs and does not include revenue from P2P based networks or any type of content outside of video. While the report, when released, will also break out P2P based revenue and include additional types of content like gaming, these numbers are for video delivery only. To obtain these numbers, we spoke to every major CDN provider in North America, Europe and Asia and obtained revenue numbers or guidance, from nearly every one, on what percentage of their revenue came from just video and from what region.
While there have been a lot of reports put out lately on the CDN market, I had yet to see one that breaks out revenue for just video delivery, which as everyone knows, is one of the fastest growing segments of the overall CDN industry. Delivering video is a completely different animal than delivering other types of content and we think it is important to treat it as such and provide data specific to that market. When released, the report will also detail the market drivers, restraints, market share, competitive analysis, and industry challenges specific to the video delivery industry.
Eight months ago, I wrote a post on my blog that gave out numbers on the size of the video CDN market. These Frost & Sullivan numbers are more accurate and more specific since we spent a lot of time interviewing every CDN, including those outside the U.S. Also, my previous numbers from last year contained revenue from some P2P based services and other content such as gaming, which is not really classified as video and should be put in the application category. These numbers also contain more realistic growth projections based on having spent weeks speaking to every major CDN.
That being said, what factors going forward have the ability to affect and alter these numbers? Clearly, many forces are at play in the market and faster adoption of HD content, mobile video and other consumer facing content services have the ability to grow the market faster. While some may assume that the market will grow larger by the entrance of new CDN players, like carriers or telcos, that won't change the market size, only the market share.
Putting exact numbers to any industry, let alone a specific segment of the industry like outsourced video delivery, takes collecting a lot of data and speaking with every vendor in the market on a regular basis as well as speaking to hundreds of customers. Once the report is finalized and ready for release, it will provide a lot more granular details on the data and will talk about market factors that could change the market sizing either way. Frost & Sullivan will be tracking the CDN market very closely over the next 12 months and we'll update these numbers based on new data we collect. I will also be doing additional webinars on the CDN market so I can answer as many questions as possible about the market and the industry's growth. You can always find the latest data we have on the size of the video CDN market at www.cdnmarket.com
Market sizing data from this post can be used by anyone as long as you credit Frost & Sullivan.