Next Issue Of Streaming Media Magazine To Focus On Video Delivery Networks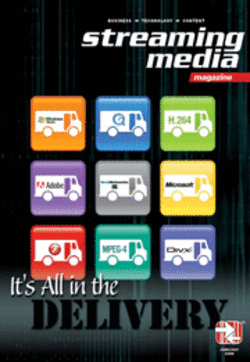 For the August/September issue of Streaming Media magazine, the focus is going to be on "The Changing Video Delivery Space. New content delivery networks are challenging the old guard CDNs. Peer-to-peer and hybrid networks are changing the rules of the game. Who are the players, how big is the market and what's your best content delivery strategy for video?"
I will be writing the feature article for the magazine and will be covering some of the new players in the market, the recent acquisitions and VC funding, the size of the market opportunity in the U.S., the push by telcos into the business and the role P2P and hybrid networks may play. I'll also be discussing what some of the growth drivers are in the market and address some of the barriers that exist today.
Streaming Media magazine publishes bi-monthly and a subscription is FREE for those in the U.S who qualify. Digital versions are also made available for those outside the U.S. Sign up now, get on the list and get the issue mailed to you the moment it's ready.
Note to CDN vendors: I appreciate all of the inquiries, but at this time I am not looking to speak to CDNs about the article. I do not plan to include quotes from CDNs for this particular article and if I need more information, I will reach out to you.