Adobe Launches New Websites Showcasing HD Video Content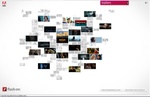 Yesterday, Adobe quietly launched two new HD websites that showcases content in HD quality using the Flash platform. The launch of the sites also coincided with the launch of a new product section at the top of the main Adobe.com website. Different images and products are highlighted each time you load the page and one of them promotes "The fusion of TV and the Internet" and links to a site I had not seen until now at adobe.com/flashon. The flashon site contains movie trailers from some of the major studios as well as some other content. It's been a busy week for Adobe and they have really increased the volume of HD quality content for demonstration on their websites.
The bad news, if you want to see anything at 720p or higher, you need a really, really, fast machine. Adobe very clearly states the hardware requirements but most won't really have the power to watch the high-res content at 720p or 1080p. I'm on a year old MacBook and my 1.8GHz processor is the minimum requirement for 720p content but I can barely get it and it keeps stuttering. No doubt Adobe is using this showcase to promote Flash and does not expect everyone the web to be able to see the stuff, but as of now, only those with very new computers can see the content at the best quality possible.
I have not had time to really watch much content and give the sites a thorough review but will do so over the weekend and post more about them next week.