Adobe Invite: Meet The Adobe Flash Team and Partners At Adobe's HQ on Nov. 6th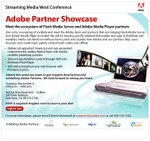 At the end of the first day of the Streaming Media West show, Adobe is having an Adobe Partner Showcase event at their headquarters in San Jose on Tuesday Nov. 6th. Their will be hands-on demos and some of Adobe's partners including Maven, Brightcove, blip.tv, Limelight Networks and Akamai will be in attendence.
RSVP is required. I don't know how many RSVPs they have left open so I suggest you register right away if you are interested. Just before the Adobe event, we have the Streaming Media West show reception as well. Come to the exhibit hall at 5pm for some drinks and networking and then head over with us to the Adobe event afterwards. All you need to do is register for a free exhibit halls pass. While the early registration period is over, you can still register here for free by using promo code HALL.