Streaming Media East Show To Be Webcast/Blogged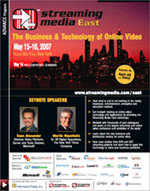 The Streaming Media East show is only one week away and we are working hard on all the last minute items. We're going to have a lot of great coverage from the show, much if it in real-time. TVWorldwide.com will be webcasting the sessions, Beet.tv will be doing live interviews from the On2 booth, LostRemote.com will be blogging sessions and IPTVEvangelist.com will be doing on-demand video interviews.
We've also got a bunch of bloggers and writers moderating a lot of sessions who will have show coverage including Jose Castillo, Jeff Jarvis, John Havens, Robert Scoble, Steve Bryant and others.
We also have pre-registered press from Advertising Age, AlwaysOn, Broadcasting & Cable, Business 2.0, ClickZ News, CNET News, eWeek, GeniusDV, Wall Street Journal and The New York Times amongst many others.
We will be adding links on the home page of StreamingMedia.com to all of the sites that plan on doing show coverage, so if you want to be listed, please contact me ASAP. If you are a blogger or media professional, it's not too late to get a press pass.