Streaming Magazine: Cookin' With P2P – Recipe for Success or Flash in the Pan?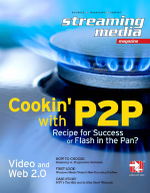 That's the title and focus of the June/July issue of Streaming Media magazine. In addition to discussing P2P we'll also have a SPECIAL REPORT: How Will Silverlight and Adobe Media Player Change the Online Video Landscape?
Additional editorial topics for this issue include:
– Online Video and Web 2.0
– This is Not Your Father's TV, Part 2
– Streaming vs. Progressive Download: The Business Case for Each
– Putting VideoLAN to the Test
– First Look: Microsoft Windows Media's New Video Encoding Profiles
– Reviewed: VX30 Video Encoder
– Case Study: MTV's The Hills Are Alive on the Web
Streaming Media magazine is published bi-monthly and is free to U.S. residents that qualify. International readers can also purchase a subscription to the magazine.