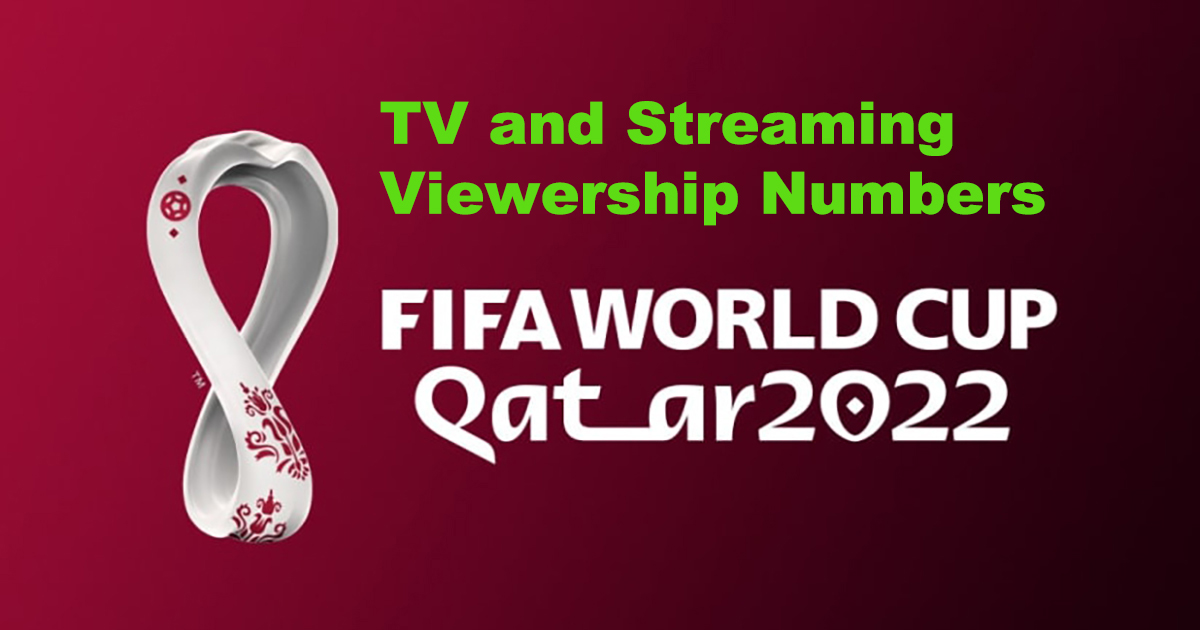 Here's a list of some TV and streaming viewerships numbers I've seen reported from the around the world for the FIFA World Cup Qatar 2022. Note that almost every number given out combines TV and streaming and does not break out streaming only viewers or define what a "viewer" is:
BBC: England versus Wales saw a peak audience of 18.7M across the UK public service broadcaster's platforms including linear television, iPlayer and the BBC Sport website.
Germany: versus Japan match drew 9.2M viewers for German public service broadcaster ARD, according to audience measurement specialist AGF, a decline of 64% from 2018.
Japan: versus Costa Rica match had 36.3M viewers and was 74% higher than the average domestic group stage audience during the 2018 event.
Portugal: versus Uruguay had 5.35 million viewers, (users who watched at least one minute of coverage) the highest TV audience in Portugal for a FIFA World Cup match ever.
Korea: versus Uruguay had 11.1M viewers, a 97% increase in audience compared to group stage matches at Brazil 2014; and 18% higher Russia 2018.
Spain: versus Germany had an audience of 11.9M across coverage on La1 and GOL MUNDIAL, exceeding the audience of any group stage game for the FIFA World Cup in 2018.
Mexico: versus Argentina delivered a national audience of 20.9M viewers. The combined share across three channels broadcasting the game was 67.9%.
France: versus Denmark on TF1 averaged an audience of 11.6M viewers and peaked in the closing minutes of the match as 14.5M.
Netherlands: versus Ecuador, 76.6% of all people watching TV in the Netherlands saw the game. This was the highest TV audience in the country in 2022 and greater than any match during the FIFA World Cup in 2018.
USA: Fox Sports, Brazil-Serbia scored 6.1M viewers across FOX and FOX Sports streaming services. It peaked at 13.4M viewers making it the most-watched non-U.S World Cup Group Stage telecast on record for English language TV.
USA: Fox Sports, the opening match of Ecuador's versus Qatar had 3.2M viewers across FS1 and FOX Sports streaming services.
USA: Fox Sports, the Portugal versus Uruguay match peaked at 4.5M viewers and the peak for Brazil versus Switzerland was 3.6M
USA: NBC Sports, Spanish-language coverage of Qatar versus Ecuador averaged a Total Audience Delivery (TAD) of 4M viewers across Telemundo, Peacock and Telemundo digital platforms. The Average Minute Audience (AMA) was 832,000.
USA: NBC Sports, Through the first six days, the 2022 FIFA World Cup averaged a Total Audience Delivery (TAD) of 2.4M viewers for 20 games, up 14% vs. the 2018 tournament (2.1M).
I will add to the list as more numbers come out.